Tzfat Everywhere

Philosophy: Love your fellow as yourself.
Creativity: Where does creation come from? What is it?  Is it imagination?  Knowledge? Wisdom?
Art Focuses: Hope | Jewish Understanding | Tzfat | The Location Here | Unity | Positivity | Diversity | Creation.
Reception: Tour, speaking about the philosophy, the essence of creativity, art focuses, with featured speakers.
Tzfat In Maynard Project
A grant exhibition, Tzfat In Maynard was a hope building community project with radio airtime and a reception with fabulous panelists and amazing artists!
View our Art Galleries, and their Creative Focuses.  See all our Events, including Studio Time.  Find our Opportunities and how to Donate!
Art Prices: view our price sheet.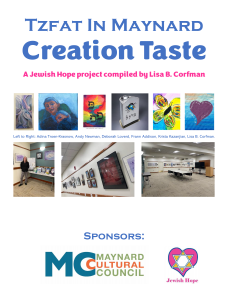 Read: Tzfat In Maynard Creation Taste book!
Visitor Words: For Tzfat In Maynard, read words visitors wrote.
Videos Coming Soon
Tour of the exhibition
Radio appearance video
Reception Panel Presentation
Acknowledgements: Here we acknowledge our supporters!
Exhibition
Housed at Maynard Public Library, Roosevelt Room, 77 Nason Street, Maynard, MA, USA, the events are inspired by Israel's 75th Anniversary!  May 1-31, 2023.
Artists: Adina Troen-Krasnow | Amir Viskin | Amy Mimu Rubin | André van Meulebrouck | Andy Newman | Bracha Lavee | Cindy Lutz Kornet | Deborah Loverd | Debra Strick | Elissa Barr | Frann Addison | Gina Tzizik | Jonathan Rodney | Iris Barten| Isaac Cohen | Kelly Regina Urquhart | Krista Kazanjian | Laura Fredericks | Lisa B. Corfman | Marla Richmond | Mei-Lin Po | Mr. Friedman | Tamara Safford | Ted Barten | Wensdy Whitehead with whom we dedicate the show.
Radio Appearance
Aired on Sunday, May 14, 2023, 8:30-9pm.  Lisa B. Corfman talked with host Mitch Gordon about Tzfat In Maynard on WCUW 91.3FM, Worcester's Shirim (Jewish music) program.
Reception
Maynard Public Library, Roosevelt Room, 77 Nason Street, Maynard, MA 01754. Thursday, May 18, 2023, 6-8:30pm, celebrating Israel's 75th Anniversary!
6-8:30pm: View the artwork
6:30-7pm: Panel Discussion moderated by Mitch Gordon.

Rabbi Lewis Mintz, Emeritus (Congregation Beth Elohim)
Rabbi Yisroel Freeman (Chabad of Sudbury)
Adina Troen-Krasnow (Spiritual Artist)

7:15-7:45pm: Meet-the-Artists with art talks!
REFRESHMENTS
Exhibition Photo Gallery
Taste of the Art Galleries
View our Art Galleries for each artist!
Art is available for sale and may be purchased at the reception or outline soon afterwards through July 31, 2023. 
Dedication: To my friend Wensdy Whitehead's life, who passed on Sunday, May 7, 2023, at 4:42pm - May her memory continue to inspire our positive folds in life!