Events
With a little bit of Jewish Hope...
Tzfat In Maynard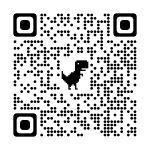 At the Tzfat In Maynard page (or by scanning the QR Code), discover the exhibition, radio appearance, and reception details! 
Find our project Art Galleries, Creative Focuses, Creative Services, Studio Time & Donation & Shop Information.
Opportunities
Give a helping hand to Jewish Hope!
Event History
Tzfat In Maynard project covered in our preliminary flyer with the project's past events from January to June 2023.  This includes:

Studio Time: 1/31, 2/21 and 3/21/2023
Call for art: Due 3/31/2023
Exhibition, at the Maynard Public Library in the Roosevelt Room: May 1 to May 31, 2023
Radio Appearance where Lisa B. Corfman talked with host Mitch Gordon about Tzfat In Maynard on WCUW 91.3FM, Worcester's Shirim (Jewish music) program: Sun 5/14/2023 at 8:30-9pm.
Reception, celebrating art for Israel's 75th Anniversary: Thu 5/18/2023 at 6-8:30pm