Events
With a little bit of Jewish Hope...
Tzfat In Maynard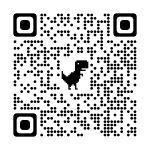 Details at the Tzfat In Maynard page or by scanning the QR Code. 
Find our project Art Galleries, Creative Focuses, Creative Services, Studio Time, Opportunities & Donation Information.
Exhibition: Maynard Public Library, Roosevelt Room, 77 Nason Street, Maynard, MA 01754.  May 1-31, 2023.
Radio Appearance: Listen to Lisa's interview only now through May 28, 2023, 8pm, aired on Sunday, May 14, 2023, 8:30-9pm.  Lisa B. Corfman talks with host Mitch Gordon about Tzfat In Maynard on WCUW 91.3FM, Worcester's Shirim (Jewish music) program.

Press rectangle with a play button arrow on it with date 5/14 and the time 8:00pm.  You can listen to the full 2 hour show or hear our interview (that started at 8:35pm) clicking on the 00 space and it will give you options like :00, :15, :30, :45.
To see our segment, click on the :30 to read 8:30, then hit the PLAY arrow and you can listen to the show starting at 8:30pm.

Reception: Exhibition room. Thursday, May 18, 2023, 6-8:30pm, celebrating art for Israel's 75th Anniversary.
Opportunities
Give a helping hand to Jewish Hope!
Event History
Call for art with general Tzfat In Maynard Information in our preliminary flyer.
Studio Time on 1/31, 2/21 and 3/21/2023.