Discover our artisans' Jewish shop locations, retailing both in-person and online.
Donate or Purchase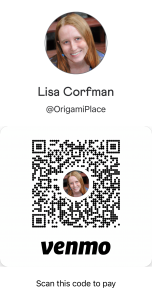 Read our exhibition book Tzfat In Maynard Creation Taste or order a copy with at $12 donation.  You may purchase Tzfat In Maynard exhibition work by request - artwork prices.
Your support of Jewish Hope sustains us, bringing more opportunities to you!  Purchase, donate, or contact us with questions... this makes a beautiful difference!
Payments at: PayPal | Venmo - @OrigamiPlace.
Email Lisa B. Corfman, the founder at Lisa@JewishHope.org with questions or concerns.
Thank you!!!
Retail
Kolbo Fine Judaica Gallery
437 Harvard Street
Brookline, MA 02446
617-731-8743
800-238-8743
www.Kolbo.com 
Israel Book Shop
410 Harvard Street
Brookline, MA 02446
617-566-7113
www.IsraelBookShop.com
Lisa's Origami Judaica Etsy Shop:
Online: www.etsy.com